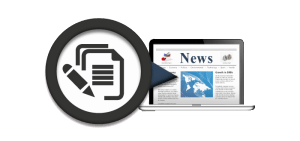 Press Release is a very informative for all visitors or customers as well as profitable service for an entrepreneur or an innovator as he can introduce his new products or services easily to the world through press release on his websites and on various online press release websites. A creation of informative and interactive article by a professional content writer can make a very powerful press release to attract visitors with the spreading of his well written article.
Today, submitting press releases over the internet-marketing world are the most ingenious way to drive traffic to your website, to increase your search engine ranking, to drive visitors that will convert into reliable customers.
Importance Of Press Release Submission
Press release is a useful publicity tool to help the entrepreneurs to build business
Helps in boosting your site's ranking in Search Engines
After the submission of your press release to many places, the traffic to your website increases drastically so it drives targeted traffic to your website
An inexpensive way to get publicity as all search engines gives importance to the quality Press Releases
Increases the trust of costumer or consumer as when he reads about your products / services in other websites
Build your brand on the internet
Increases quality one way links to your website
Ultimately, a press release increases your link popularity, traffic and sales
i2k2 Networks Pvt. Ltd has designed press release submission to maximize the visibility of our press release in the search engines. It is sure that our press release is keyword searchable for the best search terms. It increases the chances of being noticed by boosting our visibility online which ensures that our release is both high profile and high quality.
We submit your press releases to a variety of top Press Release Directories to make sure that your press releases are submitted to the best venues.